Luodai Ancient Town
Luodai Ancient Town, located in eastern Chengdu, Sichuan Province, is known as the largest Hakka community in southwest China. The town was founded in the period of Three Kingdoms (220-280). According to legend, the Shu kingdom's emperor Liu Shan dropped his jade belt into a well when he passed through this small town. Thus, the town was named "lost belt" 落带. It later evolved into its current name 洛带 with the same pronunciation, but a different character. The major draws here are the Hakka guildhalls. The guildhalls are beautiful Qing Dynasty country clubs for the Cantonese, Fujianese and Jiangxinese Hakka tradesmen who came out here to civilize the heathen, backward yokels more than 400 years ago. The buildings served as a place of refuge from the crowds and an anchor for the social, cultural and economic traditions of the Hakka tribe.
In Luodai Ancient Town, most of the guildhalls have been turned into peaceful teahouses, like the beautiful two-story Jiangxi Guildhall. Old women hawk from a small alley beside the guildhall, so if you are accosted by women making tea-sipping motions, follow them, they might well lead you to one of Luodai's most beautiful places.
The Huguang Guildhall, imposing from the outside, stands empty and neglected within. Grass grows in a courtyard once bustling with pioneer activity and the walls are cracked and sodden. You can have a very quiet cup of tea here and there is a nice little water-filled stone basin in which to toss coins.
The massive Guangdong Guildhall is imposing both within and without. The structure rises up over the city and is the focal point for life in Luodai today. Many of the remaining Hakka sit here and chat when the weather is nice and visitors from Chengdu and surrounding towns swarm here to take pictures.
There are a couple of great food streets in the back alleys of Luodai. Most of the food is Sichuan style, but there are some stalls selling traditional Hakka dishes like deep-fried goose, light cakes and steamed meats and vegetables.
The Dongshan Hakka Museum is small but very informative. You may be surprised to learn that Deng Xiao Ping himself was a Hakka, and that the Hakka may well have introduced some farming and irrigation techniques to Sichuan as well as many words now considered "Sichuan dialect."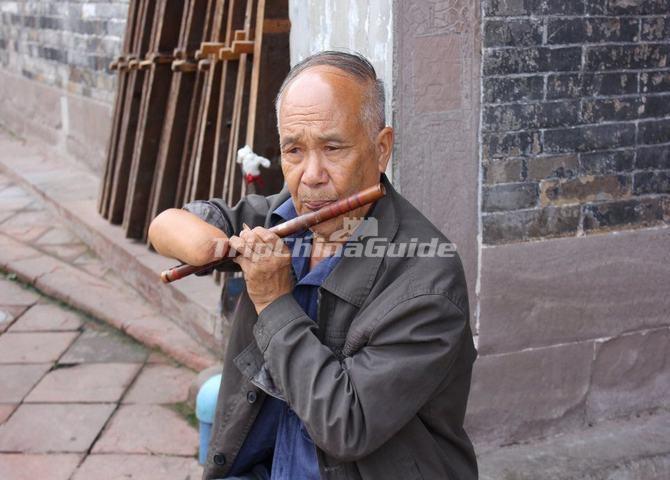 Getting there
Luodai Town is just 20 km away from Chengdu City. Tourist can take bus at Wuguiqiao Bus Station, the leave every few minutes at ticket fare of 3 Yuan/person.
---
Ask Question
---
Recommended China Tour Packages
In this section
Find China Tours
Cities and Attractions interested in