Liujiang Ancient Town
Located 25 km southwest of Hongya County, and 150 km away from Chengdu, Liujiang Ancient Town (Liujiang Old Town) was founded in 1140. It was once dominated by a few wealthy families in the old time. Its well-preserved traditional Chinese garden style residences, together with the nearby mountains and the creeks running through the town compose a beautiful landscape picture.
Like most ancient towns in western Sichuan, old banyan trees and stilted buildings are the main point of interest along the river. The main attractions in this old town are residential gardens like Mansion of Zeng Family Garden (Zeng Jia Da Yuan) and Mansion of the Wang Family, Laojunshan Rock Caving and Guanyin Rock Carving.
Zeng Family Garden is located at the north part of the ancient town. With an exquisite design, it was first built during the Qing Dynasty (1644-1911). Taking a bird's eye view, the whole garden lay-out looks like the Chinese character "Shou" (longevity). In order to build this 'shou' (longevity) house, many twisting lanes and curved eaves were designed. Nowadays, this old residence is still regarded as a good fortune land site. It is very quiet inside the old house, now nobody lives in it anymore, except for a few hens wandering around searching for pests to eat. Near the Zeng's Family Garden is a narrow lane leading to the tidy and pretty town. Wooden doors and windows, black tiles and lichen on the walls make the small town look like an ancient poem. Sometimes, the local warm-hearted people invite visitors to their homes for a cup of tea or just for a free chatting. Walking eastwards through the town, you will see a large banyan tree alongside the Huaxi River. A crossing made of paving stones was built over the river, which is used by local women as a place to wash clothes. The paved stone crossing, the streams running through the town, the clothes washing women... all of these show us a natural and relaxing picturesque landscape.
Fewer and fewer young people live in Liujiang nowadays because most of them go to work in the big cities, and those who do enjoy a very leisure life. Women sit in the doorways making shoes by hand, while men play cards and children do their homework with dogs sleeping beside them. Everybody is in a calm and peaceful life, with the only noise coming from the admiring tourists. In recent years, thousands of tourists come to visit the town. The local people are used to receiving throngs of visitors, and they will ask the visitors to hire them as guides at the town.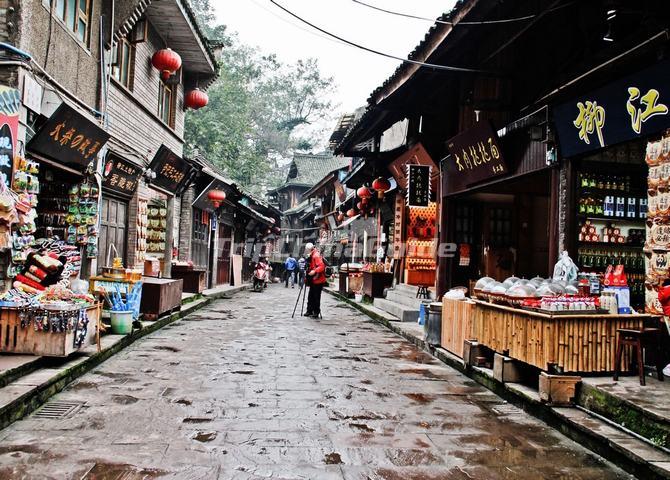 Getting there
Take bus from Chengdu to Hongya County at Jinsha Bus Station and then transfer to Liujiang Town by the local minibus.
---
Ask Question
---
Recommended China Tour Packages
In this section
Find China Tours
Cities and Attractions interested in