Zhangjiajie National Forest Park
Located in the northwest part of Wulingyuan Scenic Area, Zhangjaijie National Forest Park was established by the State Council in 1982 as the first National Forest Park of China. Covers 480 thousand square meters (185 square miles), the park, together with Suoxiyu Natural Resource Reserve, Tianzishan Natural Resource Reserve and Yaozizhai makes up the Wulingyuan Scenic Area, also known as Zhangjiajie Scenic Spot. Wulingyuan was officially recognized as a UNESCO World Heritage Site in 1992.
Zhangjiajie National Forest Park is known for its unique landscape with lush forests dominated by quartzite sandstone pillars. Beautiful brooks and charming lakes wind around the area and connect giant caves. Its main scenic spots include Golden Whip Stream, Huangshi Village and so on.
The park is also called "a paradise for the plants" and "a kingdom for animals", over 760 species of fauna and more than 3000 of flora inhabit this miraculous region. Its gymnosperm species take up half of the total in the world. In addition, it also has many rare and precious trees, like Chinese dove tree, tulip tree, Eucommia, ginkgo, etc.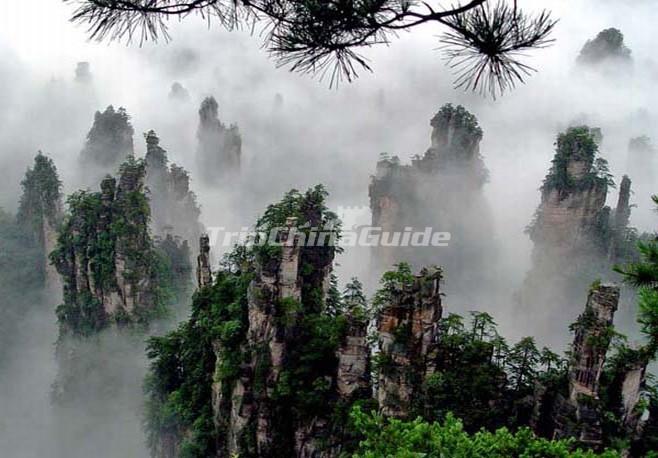 One of the park's quartz-sandstone pillars, the 3,544-foot Southern Sky Column, had been officially renamed "Avatar Hallelujah Mountain" in honor of the eponymous film in January 2010. According to park officials, photographs from Zhangjiajie inspired the floating Hallelujah Mountains seen in the film. The film's director and production designers said that they drew inspiration for the floating rocks from mountains from around the world, including those in the Hunan province.
---
Ask Question
---
Recommended China Tour Packages
In this section
Find China Tours
Cities and Attractions interested in