Harbin Ice and Snow World
Founded in 1999, Harbin Ice and Snow World is located in the middle river beach of Songhua River in Harbin City. This theme park for Harbin Ice Festival covers 600,000 square meters and is made of 180,000 cubic meters of ices, which is the largest ever. The whole Ice and Snow World is divided into 7 sections, including a ceremony square, legendary castle, ice pavilion and tower, and so on .As night falls, Harbin's Ice and Snow World turns into a wonderland.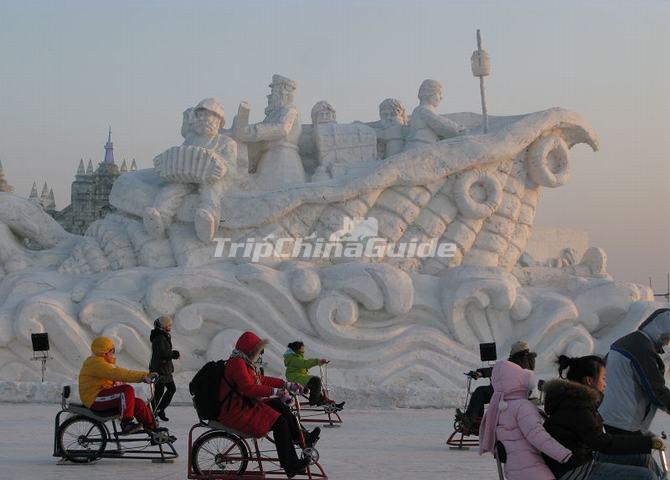 Harbin Ice and Snow World is the world essence of ice and snow art created by "ice city" Harbin. It is an integration of culmination work of ice and snow landscape and entertainment, which is known as the world famous ice and snow tourism projects with the world's largest ice and snow art landscape, the world's most complete snow entertainment project, the world's most beautiful scenery at night, and the word's most exciting projects.
In the annual session of the Ice and Snow World (start holding on January 5, and extend to the end of February), you will watch the world's highest, most beautiful, most majestic, and most attractive snow spectacle. You will also experience the ice bar, ice hotel, snow ring games, maze treasure hunt, ice climbing rock, snow golf, snow football and other more than 30 colorful, cultural and recreational activities which bring endless fun to make you indulge in pleasures and the kaleidoscope, with beauty of the night in bright lighting, allowing you to walk seems like a fairyland.
---
Ask Question
---
Recommended China Tour Packages
Find China Tours
Cities and Attractions interested in