Siberian Tiger Park
Situated in the north shore of the Songhua River and adjacent to the Sun Island Park, Harbin Siberian Tiger Park covers an area of 1,440,000 square meters and has more than 200 varieties of different ages purebred Siberian tigers (aka Manchurian tigers) . It is a comprehensive enterprise which sets protection, scientific research and tourism as one and it is a unique tourist attraction of Harbin, as well as currently the world's largest artificial feeding and breeding base for Siberian tigers.
Siberian Tiger Park is currently has five attractions of Adult Tiger Park, Bred Adult Tiger Park, Tiger Cub Park, African Lion Park and the Pedestrian Zone. Visitors need to use one hour of time to travel the entire distance. Among them, the Adult Tiger Park, Bred Adult Tiger Park, Tiger Cub Park, and African Lion Park need to watch by tour car. Siberian Tiger Park has 15 units luxurious tourist cars, people can sit in the car to go look for tiger tracking and enjoy Siberian tiger's unique style.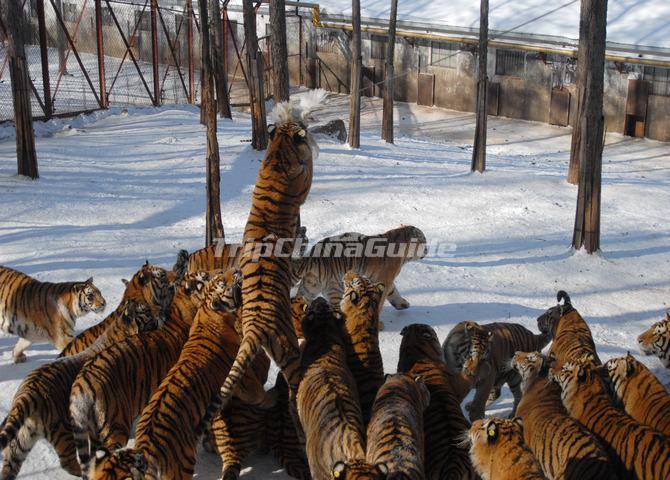 Siberian Tiger Park is very rich in natural features, has a good basis for eco-tourism. The air here is good quality and exudes fragrance of soil and weeds everywhere, where people can fully enjoy the integration with nature, and it is an ideal place for tourism, leisure, and holidays. Since opening in 1996, the Siberian Tiger Park with its rustic charm and fascinating charm to attract a large number of overseas visitors comes here.
The establishment of Siberian Tiger Park is not only to protect the Siberian tiger, but also to provide a unique tourist attraction for people who are keen to travel. If you are sincerely seeking the best fusion point of man and nature, please remember Siberian Tiger Park's sincere invitation.
---
Questions & Answers about
Siberian Tiger Park
---
Ask Question
---
Recommended China Tour Packages
Find China Tours
Cities and Attractions interested in