Dingling Tomb
Diling Tomb was the imperial mausoleum for Emperor Wanli and his two empresses and also the only excavated one. Its construction began in 1584 and completed in 1590, covering an area of 180, 000㎡. It took 8 million taels of silver, equivalent to 2-year tax income during the mid-period of Emperor Wanli's reign. At present, only the Baocheng, Memorial Tower and the city wall, among the above-ground architectures, survived the past severe destruction.
This is the tomb of Zhu Yijun, the 13th emperor of Ming Dynasty, and his two empresses, located at the foot of Dayu Hill at the northwest of the Thirteen Mausoleums, occupying an area of about 18 hectares.
Zhu Yijun assumed the crown when only 10 years old, titled his reign as Wanli Period and ruled for 48 years, the longest among all the emperors of Ming Dynasty. Since the construction of his mausoleum began in his life time in 1584, he personally inspected the six-year construction for six times, thus the officials in charge dared no risk but deployed 20 to 30 thousand laborers each day and produced an extraordinarily exquisite and elegant tomb. It is said that the pavement brick would take 8 month to prepare its earthen base, the burning with selected tree branches would last for 136 days, and another 3 months were needed to soak the finished bricks in Tung oil (a kind of oil made from the seeds of tung oil tree), so that the bricks would be fine, smooth, and yellowish in color, thus called "golden bricks". This might give some idea of their extravagant meticulosity about the building materials. The total expenditure on Ding Mausoleum amounts to about 8 million taels of silver, and the luxury reveals fully the political corruption and social extravagance in the middle and towards the end of Ming Dynasty.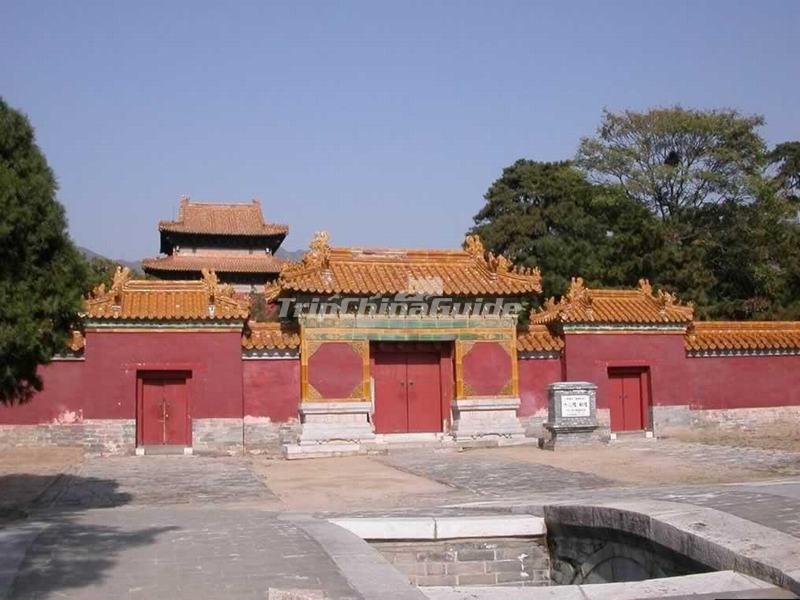 The aboveground buildings of Dingling Tomb imitate Changling Tomb in its layout: rectangular in shape, square in front and round in rear. In order on the axis are the similar buildings like mausoleum gate, Stele Pavilion, Gate of Prominent Favor, Mausoleum Tower, and Treasure City. Yet the craft is more meticulous everywhere, such as the three additional single arched stone bridges in front of the mausoleum gate, the Stele Pavilion behind the bridges in the style of double-eave between four ridges, and the stele carrier tortoise was carved with lively sea waves and coast cliffs, etc. No far away east of the stele pavilion, there was also the "office for Dingling Tomb" in charge of the daily management and maintenance, and the rooms provided for the office alone amounted to over 300.
---
Ask Question
---
Recommended China Tour Packages
In this section
Find China Tours
Cities and Attractions interested in