Tour Yangshuo China
Located 65 kilometers away from Guilin city, Yangshuo County had been listed as one of the most beautiful counties in China in 2014. Characterized by crystal clear rivers, lush vegetation, classic Chinese architecture and customs, and beautiful rural scenery, it is a well known tourist destination at home and abroad. The beautiful natural scenery so admired by painters and poets has made Yangshuo famous throughout China and internationally. It is the place for leisure and enjoyment. By admiring the beautiful natural landscapes in Yangshuo, you can feel the freedom of your soul and released from the fast pace in metropolis and heavy work load.
See & do
The Big Banyan Tree
Located at Gaotian Village, 7 kilometers south of downtown Yangshuo, the Big Banyan Tree Park is one of the main attractions in Yangshuo County. With the history of more than 1000 years old, this huge banyan tree is 17 meters in height and 7 meters in width.
The river is a tributary of the Li River. It drains the Yangshuo County area, and comes from the northwest of Yangshuo. The Yulong Bridge was built at the midstream of Yulong River, with a history of more 500 years. The bridge is 59.39 meters in length, 5 meters in width and 9 meters in height.
With a moon-shaped hole, the Moon Hill is one of the highlights of Yangshuo. The moon-shaped hole measures 50 meters in width and 50 meters in height, under the arch of which are stalactites of various shapes.
The West Street
The West Street is the oldest street in Yangshuo County. It is a wonder that each year hundreds of thousands of foreigners come to the West Street for sightseeing, living, working and studying, and at times, foreigners outnumber Chinese people. Therefore, the West Street is also called "foreigners' street".
Weather in Yangshuo
Yangshuo locates in subtropical monsoon climate zone. There is obvious difference in climate change in Yangshuo due to monsoon. Spring and autumn would be the best time to visit Yangshuo. But it's usually dry and warm (but not hot) in these periods. Summers can be hot and raining while winters can be cold, miserable and wet.
Getting There
By Air
The nearest airport available for Yangshuo is the Guilin Liangjiang International Airport. Yangshuo is 65 kilometers from Guilin city, taking 1.5 hours of driving. Until now Guilin Liangjiang Airport has opened the flights for the main cities in China. There are also international flights available for Bangkok of Thailand, Seoul of South Korea, and Fukuoka of Japan.
By Bus
The bus station of Yangshuo is near the West Street. Buses operate every 15 minutes between Guilin and Yangshuo every day from 6:30 am to 6:00 pm.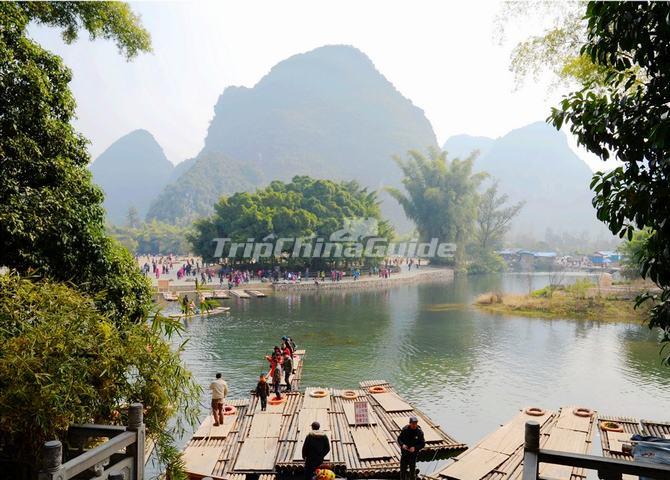 Travel Tips
1. Take sun scream, topee and umbrella with you when you decide to visit Yangshuo from March to August because it often hot and rain in Yangshuo, especially in May and June.
2. It is very noisy in the evening on the West Street, so do not choose a hotel on West Street if you want a good night sleep for your trip in the following day.
3. October is the peak season for traveling to Yangshuo due to the National Holiday in China. There is huge crowd traveling in Yangshuo County. The room rate is expensive. You'd better avoid this period if your traveling date is flexible.
Most Popular Yangshuo Tours
---
Recommended China Tour Packages
Ask Question
In this section