Crown Cave
Situated on the bank of the Li River in Caoping Village, 29km south of Guilin city, Crown Cave is the only developed tourism area in Li River scenery and a famous national AAAA-level scenic spot. With its unique natural landscape, pastoral scenery and local customs, Crown Cave is named "the bright pearl of Li River".
Since ancient times, Crown Cave has attracted and inspired many writers and scholars for hundreds of years. Xu Xiake, an ancient traveler in China, explored the cave in 1637 and is regarded as the first visitor to this cave. In his masterpiece "Travel Notes of Xu Xiake" detailed the Crown Cave, which is its name come from. In 1985, a Sino-British expedition probed the cave and confirmed the water in it was from Nanxu River. In 1995, Crown Cave has been developed and opened to the public.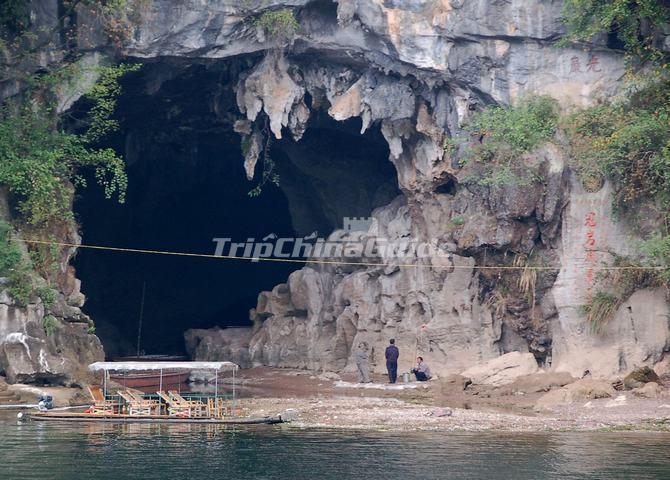 Crown Cave is the entrance of the modern underground river. It divided into four caves, which is connecting with each other. From the layout of cave, it appears spacious and brightly, because there are stalagmite and stalactite covered in the top of the outer cave. From the outside one can have a full view of the hanging stalactite, with purple mist which makes a poetic charm in this cave.
Crown cave extends 12km, but only the 3km nearest the river has been explored to any large extent. The Cave is a popular and important stop for both river cruise tourists and those arriving from Guilin City by bus tour. Crown Cave, a water eroded cave, is a wonderland of various stalactites, stone pillars and rock formations.
Crown Cave was listed in the Guinness World Records as a cave with the most ways of traveling. Visitors can reach the mountainside by light rail and descend into the cave by elevator. There are altogether five caves connected together.
The stalactites, stalagmites and stone pillars inside will capture all the visitors' imagination. Then visitors can take the light rail to Palm Hall. The tallest palm-like stone pillar among the four in the hall is taller than 50 meters, reaching the ceiling of the cave. Visitors can also take a small boat to explore the underground river there. This is a cave with all means of exploration including boating, hiking, taking light rail and elevator.
Crown Cave is the only one scenery that has all the Guilin's features: "Green hills, clear water, fantastic caves and charming rocks". As a result, Crown Cave is praised as" Guilin's scenery is the best in the world, however, the scenery of Crown Cave is amazing in Guilin".
---
Questions & Answers about
Crown Cave
---
Ask Question
---
Recommended China Tour Packages
In this section
Find China Tours
Cities and Attractions interested in