Confucian Temple
The Confucian Temple of Suzhou, also known as Suzhou Stone Inscription Museum and Suzhou Prefecture School, is located in the ancient city of Suzhou, on the south bank of the Yangtze River. It was built by Fan Zhongyan(989-1052), who was a famous politician, thinker, and writer in the Northern Song Dynasty(960-1127. It was the first temple school in China, and is notable for containing the four greatest steles of the Song Dynasty.In 1961, the stone inscriptions in Suzhou Confucian Temple were listed among the first batch of National Key Cultural Relics Protection Units by The State Council of the People's Republic of China. In 2001, together with the Confucian Temple, it was called Suzhou Confucian Temple and Stone Inscription. Presently, it has a new name, Suzhou Stone Inscription Museum.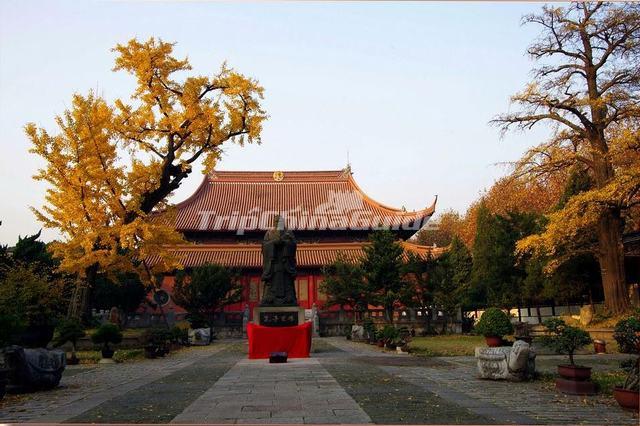 In 1035, when Fan Zhongyan was the Prefect of Suzhou, he combined the State School and the Confucian Temple, which began the State education. The system was imitated by other places, for which it got the saying "State education began from Wu County ".Suzhou Temple School had been extended several times, so presently ,it takes up a large area. According to the record of County Wu, it had 213 rooms in Southern Song Dynasty (in 1241). In its day, it had classrooms, dormitoroes, exam rooms and canteens, besides the hall and temple. Suzhou Temple School also had gardening architecture, for instance, rockery, pond, bridge and pavilion. Its scale is the biggest among schools in the southeast.
At present, the temple only occupies 17,800 square meters, which is one sixth of the area when it was in the prime. However, the architectural layout remains, with the temple and the school. In the eastern temple area, only Ji Men, Dacheng Hall and Chongsheng Memorial Temple are left, and in the western school area, only Pan Pond, Qixing pond and Minglun Hall are comparatively complete. The magnificent Dacheng Hall is the main building of Confucian Temple and its scale is second in Suzhou only to Sanqing Hall in Xuanmiao Taoist temple in Suzhou.
There are four greatest steles of Song Dynasty in Suzhou Confucian Temple; Besides, Su Zhou Confucian Temple also collected more than 3,000 pieces of stone inscriptions and about ten thousand rubbings. These included the famous handwriting and poem steles of Lu Ji, Huang Tingjian, Su Xu, Su Shi, Wen Tianxiang and Wen Zhengming. These collections were displayed according to theme, such as Confucius, Confucianism, economy and ancient calligraphy. In 1985, Su Zhou Confucian Temple was named as Suzhou Stone Inscription Museum.
---
Ask Question
---
Recommended China Tour Packages
Find China Tours
Cities and Attractions interested in